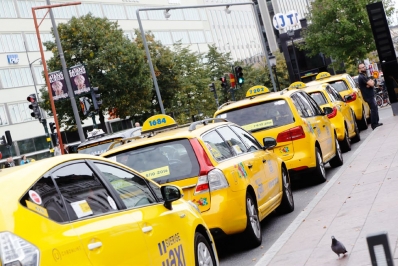 Card payments in taxis has just become easier following the launch of an innovative new integrated solution from Semel. The solution utilises Spire Payments' award winning SPm20 mPOS end point, loaded with Poplapay's accredited payment application. The net result is a cost effective, highly versatile and secure method of taking card and NFC payments on the move.

The project, which equates to over 3,000 installations per year, was won by Spire Payments and Poplapay thanks in part to the capabilities of the SPm20 platform. The SPm20 is more than just an mPOS device, it's an extremely versatile mobile payment platform incorporating contactless/NFC capability and full docking capabilities for continual charging; a must in environments demanding extended periods of use. More importantly, the SPm20 supports Spire Payments' comprehensive Linux-based inSPire development environment, which provides the ability for applications, such as Poplapay payment to reside on the device.

Poplapay, the new name for Poplatek Payments, is an official Spire partner and a Finnish specialist in providing payment solutions to businesses of all sizes. Operating through a comprehensive retailer network throughout Finland, Poplatek offers bespoke solutions for its customers.

Semel Ltd is a company established in 1971 and today is one of the leading suppliers of taxi payment systems in the Nordics. Specializing in payment, measurement and data collection systems, Semel systems can be found in over 9,000 taxis across the Nordics.

Petri Ahti, Managing Director of Poplapay said of the project, "We pride ourselves on developing solutions rapidly and to the highest standards possible. This project optimises this approach and has been made possible by working closely with Spire Payments, our partner, and Semel a market leader in its field. Deployment of the solution has commenced in Finland and will soon migrate to Sweden."

Börje Nummelin, CEO for Semel adds, "This has been a pivotal project for our business and marks the introduction of our latest Smart meter to our growing portfolio. In collaboration with Poplatek and Spire this solution has allowed Semel to offer a best-in-class solution for both fare metering and payment combined."

TK Cheung, President of Spire Payments, says of his company's participation in the project, "Spire Payments continues to see strong growth in mPOS, and our ability to host applications on the SPm20 provides ultimate flexibility for our customers and has been of paramount importance for this project. This solution provides significant cost savings for the taxi driver compared to traditional alternatives, and the use of a tablet offers maximum flexibility for future functionality."

About Spire Payments
Transaction.Interaction.Convergence

In a world of converging technologies in which e-commerce, mobile commerce, and social networks cross over into traditional electronic payment, Spire Payments applies its thirty years of expertise to bring to market innovative, highly secure and future proof devices and solutions that promote seamless payment transactions to all end-points around a user experience that is both interactive and rewarding. Spire Payments, a market leading FinTech payment solution provider, is one of the original pioneers to develop world-class secure electronic payment solutions - from fixed, portable and mobile payment solutions to PIN pads and unattended terminals for integration with cash register systems and self-service kiosks.

Serving global market segments including financial, retail, hospitality, transportation and healthcare Spire Payments is a forward-looking alternative to traditional payment terminal suppliers. With offices in Spain, the UK, the Czech Republic, Russia, Jordan and Dubai, Spire delivers innovative solutions to some of the world's top financial and retail organisations. The Spire Payments team will always be at the forefront of progress in electronic payments.

MEDIA CONTACTS
Spire Payments
Daniel Willock, Marketing Coordinator
M: +44 (0) 7876 883730
E: [email protected]